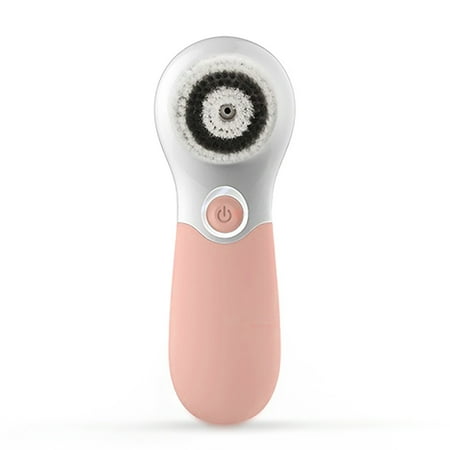 Product Description
Product Features
Product Video
Daisi Face Cleansing Brush, Waterproof Electric Facial Exfoliator, Microdermabrasion Scrub System, Soft Non-Sonic Brush for Advanced Skin Look after Men & Women
ROTATING BRUSH: The Daisi Electric Facial Cleanser includes a 360-degree rotary soft brush that easily removes cosmetics, dirt, oil and dead skin. Your skin's natural radiance will shine through as the brush exfoliates and clears blocked pores.CLEANER SKIN: The circular turning movement of the electrical cleaning brush is six times more effective than cleaning with your hands alone. Scrub out dirt, dead skin and germs from your pores and help in reducing blackheads and whiteheads. Difficult to clean areas, like the T-zone and sides of the nose, are a cinch to clean up with the cleansing brush. Usage with your favorite facial cleanser two times a day to effectively exfoliate and optimize the power of your skin's natural renewal.2 SPEED SETTINGS: 2 different speed settings
allow you to choose the level of cleaning. The low speed option will gently cleanse and eliminate cosmetics, dirt and gunk from your skin. Select the high-speed choice for a much deeper exfoliating cleansing experience. Both speeds assist to polish and brighten your beautiful skin.ALL SKIN TYPES: Everyone can use and take advantage of the facial cleansing brush.
The brush works for both ladies and males, and for typical and sensitive skin. Cleanse, brighten and beautify your skin in simply a few minutes.CORDLESS: The facial cleansing brush is powered by 2 AA batteries (not included ). No electrical cord tethering you
to an outlet or hindering movement while you cleanse your face.The Daisi Electric Facial Cleanser uses a 360-degree turning soft bristle visit get rid of dirt, cosmetics, oil, dead skin and bacteria from your face and pores. Easily clean hard to reach locations, like the locations around your nose, for bright, beautiful and tidy skin. Acne scars, fine lines and wrinkles are lessened with continuous use. Water resistant and runs on 2 AA batteries( not included). Change the brush head every 3 months. Get rid of the brush head and rinse with water. Do not clean the device body with water or any corrosive or abrasive products. Clean with a soft cloth after use.

HSN | HSN Today: Beauty Innovations featuring Luminess 09.30.2016 - 08 AM